The Malaysia National Poison Centre
Universiti Sains Malaysia, 11800 Penang
Website: www.prn.usm.my
The Malaysia National Poison Centre based at Universiti Sains Malaysia (USM) in Penang was established in 1994 to serve as a referral point for consultation on drugs and poison information and poisoning management. The centre's daily On-Call service responds to poisoning emergencies offering consultation and poisoning management advice to hospitals and the public. In addition to this service, the centre also conducts research, lab testing and analyses, public health campaigns and poison prevention education, promoting healthy lifestyles, safe use of chemicals, tobacco control and rational drug use.
The vision of the Malaysia National Poison Centre "Creating Health" – signifies the context it operates with a mission "To Reduce the Mortality, Morbidity, Occurrence and Cost of Poisoning in a Manner that Strives for Excellence, Compassion and Innovation".
The Malaysia National Poison Centre is also a designated WHO Collaborating Centre for Drug Information (Western Pacific Region) since 1998.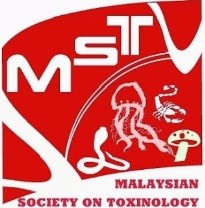 The Malaysian Society on Toxinology
C/O Department of Pharmacology
Faculty of Medicine, University of Malaya
50603 Kuala Lumpur, MALAYSIA
The founding of the Malaysian Society on Toxinology (MST) in 1992 is the initiatives of several lecturers at the University of Malaya Medical Faculty and other academic institutions. MST is the sole body in Malaysia to dedicate its purpose on toxin research and clinical toxinology.
Since its formation, MST has contributed to the field of toxinology and medicine a significant number of high quality research and publications. The society aims to continue developing and improving the science of toxinology in Malaysia through quality research and publications while functioning as a platform for its members to communicate through various scientific proceedings and programs. It also aims to foster good networking between toxinology experts and members of other associations or institution with similar interests and to be a credible reference point for qualified information and optimal clinical practice in Malaysia.
College of Emergency Physicians (Academy of Medicine Malaysia)
Unit 1.6, Level 1, Enterprise 38\B, Technology Park Malaysia
Jalan Inovasi, Lebuhraya Puchong, Sungai Besi, Bukit Jalil 57000 Kuala Lumpur
Email:

This email address is being protected from spambots. You need JavaScript enabled to view it.
The College of Emergency Physicians, formed in 2011, is one of the 11 Colleges of the Academy of Medicine Malaysia. The Academy of Medicine Malaysia itself was formed in 1966 and embraces all disciplines of medicines. Its vision is to ensure the highest standards of specialist medical practice in a professional, ethical and socially just manner while its Mission is dedicated to promoting the highest standards of Specialist Healthcare.
Other colleges of the Academy are:
College of Physicians - 1995

College of Surgeons- 1995

College of Paediatrics - 1999

College of Anaesthesiologists - 1999

College of Pathologists - 1999

College of O & G - 1999

College of Public Health - 2001

College of Radiology - 2001

College of Dental Specialists - 2009

College of Emergency Physicians - 2011

College of Ophthalmologists - 2014